WORK UNTILL YOU FEEL DUBAI IS CHEAP
You might have heard the above success saying-
Although I believe in working hard , and taking steps towards wealth management, but Dubai was a country which I wanted to explore to know the reason actually behind the saying which I wrote above. Being a beginner in the career, few people of my circle have visited there and the experiences the shared was mesmerising, the luxury they talked about, was thinking that will I be able to manage to visit Dubai?
I conquered on my thoughts that will it be worth enough to travel Dubai when I will get all the success, or should I manage in the beginning phase so that Dubai can get me pumped with motivation to work hard by hook or by cook. I took it as an opportunity, and booked my travel, which was my second international trip to Dubai – 2016 – September 18th to 25th.
My flight was around 4 in the evening. 3-4 days Before the travel, I planned to visit my mumm in haridwar, to share my excitement and feeling about this travel, btw, thats a different thing that in return I may get the dirty clothes washed 🤣
The same day of Dubai flight, it was Sunday, I returned from Haridwar in the morning by 6-7 am. Took a nap, as was bit tired of a Volvo travel overnight. Woke-up, and arranged my bag, with the help of list of need to carry stuffs, prepared on my phone last night in Volvo. Btw, would suggest this listing to everyone who is always not sure of the stuffs need to carry on the travel, missing this listing may lead to forget something to keep in bag which may again lead to bit suffer, as it would be a different country, weather to get the new one in the shopping centre.
Reached airport by 1 pm, done with check-ins and baggage security. While immigration, the guy sitting on duty, was continuously starring my face and then back to my passport. Asked few questions about my travel, then then again he looked at me for 2-3 seconds, later I realised, that's their duty to match the faces from the picture on passport.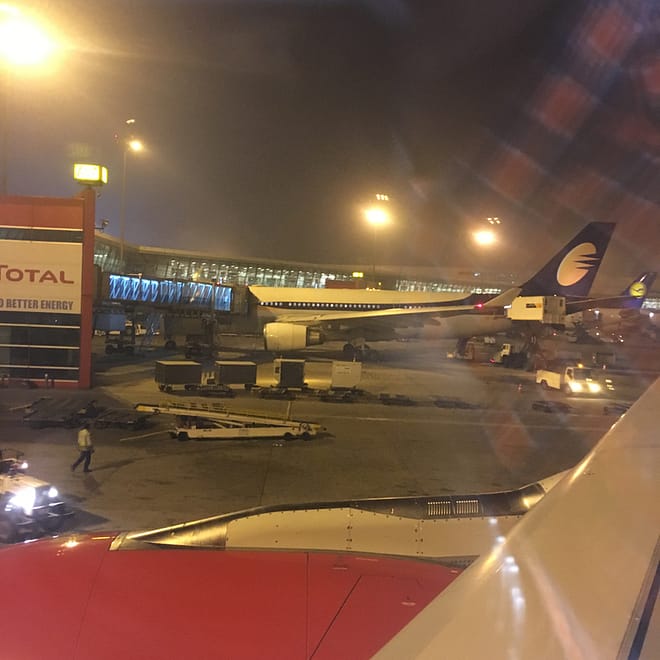 Explored the T3 from one corner to other , had sandwiches from Subway, and boarded the Emirates 🇦🇪 Airline EK517. Btw, Let me share you, emirates is considered to be a classy airline for traveling to Dubai, you must try Emirates at least once in a lifetime . Reached the airport, men around wearing an ankle-length, loose-fitting garment made of white cotton, known as a kandora or dishdasha. A ghutra covers the head and is held in place by the agal, a black cord. Traditionally, women in Dubai wear an abaya―a long, black flowing light coat over their clothing. Done with immigrations , and was looking forward for taxi to reach hotel. The dirhams (currency of UAE) the taxi drivers were demanding is somewhere too much. I tried for Metro. I had heard Dubai Metro is the most convenient transportation method in Dubai. The day we checked in the hotel, late evening after dinner , we went for a long walk to roam around the streets of Burj Khalifa. Even around 10 pm, a huge local and tourist crowd was there to roam around. Went into the Dubai mall around 12 in the midnight and explore few things, nevertheless we have visited again these two places on the next day.
Let's explore the unexplored
a) The Dubai Mall –

The Dubai mall is a shopping mall in Dubai. It is the second largest mall by total land area, and the 26th-largest shopping mall in the world by gross leasable area, tying with West Edmonton Mall and Fashion Island —both of which are older than it.

Dubai Mall records more than 5 million visitors in the month of March 2010 during the one-month Dubai Shopping Festival, setting an all-time record in visitor footfall

Incidents happened inside the Dubai Mall

1. On 25 February 2010 the aquarium (which holds sharks) sprung a leak which led many shops to temporarily close down and forced shoppers to evacuate the mall immediately. It reopened the following day

2. In March 2015, more than a hundred foreign labourers protested in front of Dubai Mall due to overtime wages not being paid, causing disruption to traffic in the area. The situation came under control within an hour by the police

3. On 31 December 2015 the mall was evacuated because of a major fire at The Address Hotel , which is adjacent to the mall's compound.

     Inside the Dubai Mall- Attractions.

The Aquarium & Underwater Zoo- Entertainment. The aquarium, located in The Dubai Mall, showcases more than 300 species of marine animals, including sharks and rays.

Dubai Dino

Dubai Dino is genuine fossil of Diplodocus a large, long-necked dinosaur. The total measurement of the Dino is over 7 meters in height, and 24 meters in length.
The Dubai Fountain
The name of the fountain was chosen after a contest organized by the developer Emaar Properties the result of which was announced on 26 October 2008. Testing of the fountain began in February 2009, and the fountain was officially inaugurated on 8 May 2009 along with the official opening ceremony of The Dubai Mall. I loved the Dubai fountains and its choreography with music, The choice of music is always good too. 10/10 would recommend spending an evening next to the fountains.
Mall of the Emirates
This massive mall has a mix of luxury labels like Christian Louboutin and midscale brands like DKNY. It's also home to hotels, restaurants, theaters, and the indoor ski resort Ski Dubai. The year I visited, There were so much to do for adults and children , the magic planet was amazing for children as well as the cinema complex , the evenings were excellent the atmosphere was great as there were so many people . One of the Best mall.
Baqer Mohebi Supermarket
Baqer Mohebi Supermarket in Bur Dubai is a grocery shop where plenty of Outsiders buy chocolates at cheap prices to carry along to their nations . Best part which i liked was, we can have any chocolate to taste it as much as one can, no limitations on qty for tasting. It might was a lunch for me that day , unintentionally 🤣. Bought chocolates of different names and flavours to distribute my ppl in delhi and Haridwar.
Desert Safari
When it comes to BELLY DANCE, SAND DUNES, CAMEL RIDING One of the best spot for dubai safari tours and much more Enjoy dune bashing to its full extent with a trip to the red dune desert, which is also called Al Hamar. The main reason why this desert is famous for dune bashing is because of its 53 desert dunes which are as high as 300 feet, allowing for a great ride! The dune bashing trip is done in a 4 X 4 vehicle, which while thrilling, is completely safe as these vehicles are driven by expert and professional drivers.
Burj Khalifa
Phenomenal Experience!!! It's not just tallest, it's Gorgeous too. I was not liking to go away from this area. The experience i had loved from the outside on the ground is far better than to go up to the 125th floor. The building looks a giant beauty from the area where Dubai fountains are!! Have went in the evening to have a better experience. Dubai mall is close to the building so spent a day in shopping then enjoyed the evening over here!!!
Burj Al Arab
The Burj Al Arab is a luxurious five star hotel located in the city of Dubai, United Arab Emirates. One of the tallest hotels in the world, it is the seventh tallest, although 39% of its total height is made up of non-occupiable space.Burj Al Arab stands on an artificial Island 280 m (920 ft) from Jumeirah Beach 🏖 and is connected to the mainland by a private curving bridge. The shape of the structure is designed to resemble the sail of a ship. It has a helipad near the roof at a height of 210 m (689 ft) above ground.
Dubai metro
s an experience not just a method of transportation. Must explore it . You can access all major tourist attractions easily. If you are a tourist and no time to take a city tour just have a trip in Dubai metro and in less than 2 hours you can have a look of  majority of the attractions from the metro itself. You can reach Dubai Airport by metro. To be clear Dubai International Airport which is DXB, Terminal 1 and Terminal 3. If you want to go Terminal 2 there is no metro access direct
As soon as I reached the Desert i got on a Land Cruiser and rode the Dunes, an experience never to forget incomparable to a roller coaster, Anyway, all I can say is What A Ride! Our SUV gave me an unforgettable ride. Steeply climbing and stomach clinchingly dropping among the sand dunes, it was 20 minutes of sheer fun filled terror! But it was all within a safe ride. It makes NOOO sense to skip the desert tour experience, JUST DO IT!</br>
The evening included Egyptian Dance,Belly Dancing,Fire Breathing Show and many other things simply amazing, food was also bit ok, but the entire experience made up for it, Hukka was there. (expect additional costs for some experiences)

Speciality With Dubai Metro?

1. Very clean metro stations. 

2. Very friendly staff.

3. Very clean trains.

4. Team speaks multi language as they are different nationality.

5. Information boards are well displayed and easily understandable.

6. Voice and display notifications inside trains.

7. On time train service

8. Automatic metro (no Driver/Pilot)

Dubai offered me an array of exciting experiences and picturesque attractions to my trip.