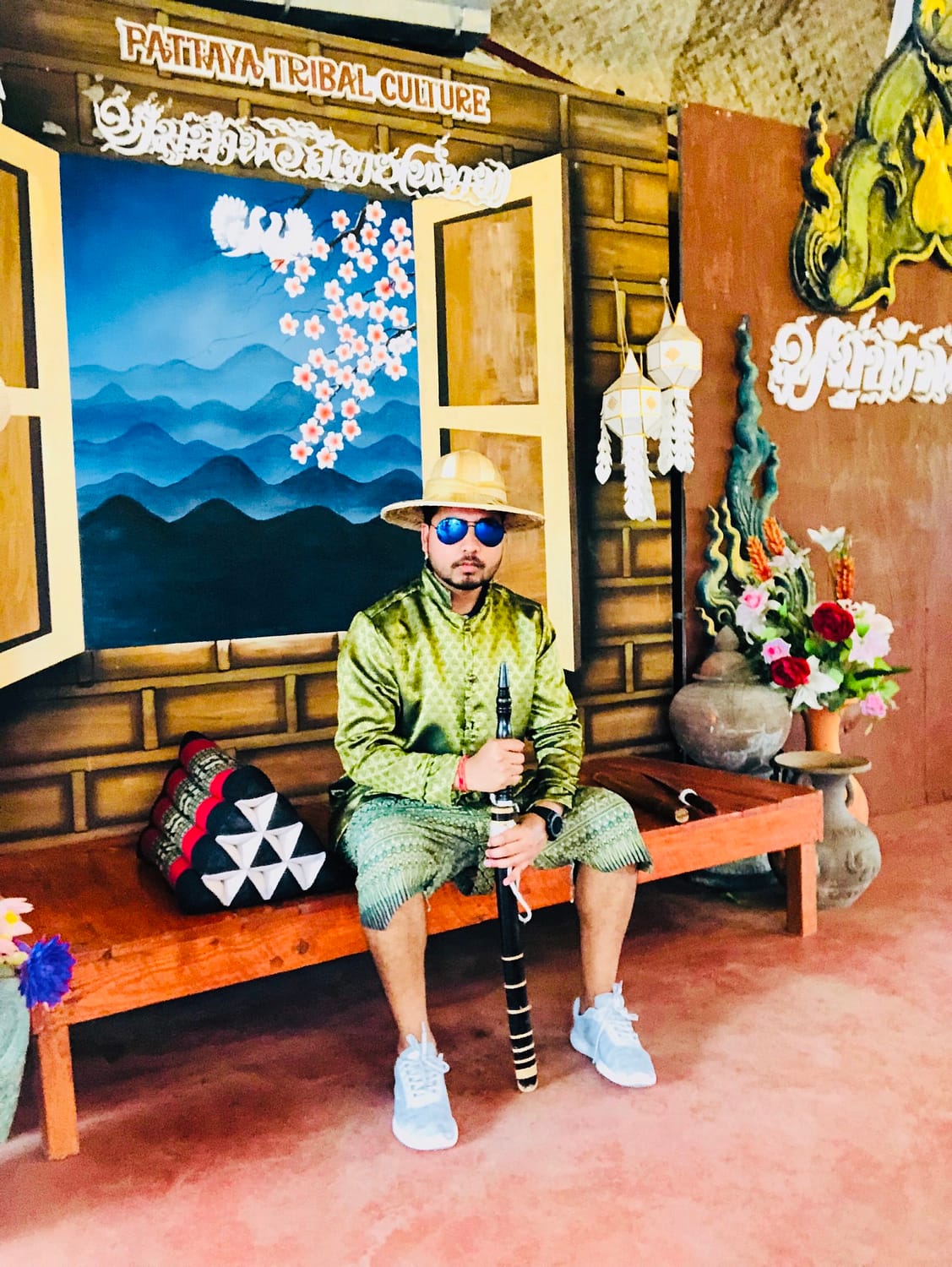 A Trip to Thailand 🇹🇭  Called the "Land of Smiles. If you are a foodie ! And craving for sea foods, You will enjoy visiting Thailand by eating.!!
An Adivce for the traveller  –
Do whatever you have in wishlist and ensure you don't regret after flying back.
Whats came in mind after this word Bangkok ?🤣 . Wait a minute ! Ofcourse i am bachelor but my purpose to visit Pattaya and Bangkok was just i like places with tropical climate and good beaches, so that is enough to make Thailand popular. It has great culture, long history, good weather, beaches, and infrastructure for all types of tourists from luxury through to backpacking.
Although yes , i agree with the thought somewhere in life a bachelor trip is planned for Bangkok, few people out there will definitely judge . Yes , they might be correct at what they have assumed, but yes it varies person to person , mine was a friends group trip to Pattaya and Bangkok along-with girls as well . and of course, i am an innocent guy 😉.
And the trip starts with a bit messy morning. Got late for the airport, and the checkin team denied for the checkin stating the checkin for air Asia aircraft from delhi to Jaipur is closed now , and we are late . The moment we heard , sorry sir , you are late , i was bit shaken as not only this airline to Jaipur, we have another flight from Jaipur to Bangkok as well in the late evening, how would we commute ?? We requested the guy sitting there , and somehow , he listened to us and stopped the rest passengers who were in queue for checkin and started with us , the baggage and boarding passes got done as we are asked to move towards the airline quickly.. Somehow, a know person of my co traveller was in duty that time and she called her that friend for the help. He came and asked not to worry , and walk and not to run . We seated and he came in the aircraft to confirm that we all have seated ,That moment only my friend had thanked her , but heartedly i thank him too . We have reached Jaipur , but we have luggage too, which will be difficult for us to carry them for the entire day , another my co-traveller had contacted  her friend who works at Jaipur airport and was working as a ground staff in airasia , before we asked , her friend herself offered us to keep our luggage in her flat , and can take back when we needed . We did the same and had lunch in a decent restaurant, and proceeded for sight seeing of 1-2 spots , although i have been to Jaipur earlier but even we have to spend our time too as our next flight was in late evening. We went to big bazar and I shopped shorts and t-shirts , and we were exploring Jaipur streets in the evening after sunset and it's actually a beautiful and a nice place . Around 8 in the evening we took our luggage from flat of that girl and thanked her , and moved for airport, and proceeded the checkin, while checkin we got to know that our per head luggage allowance is exceeded for two of us , what we did , is without thinking of rest of the public, we started shifting our luggage to each other's bag . And it's still exceeded bit . Remember the girl who kept our luggage in her flat , she was on duty while we were doing checkin for our Bangkok flight , my co traveller called her and asked her if we can get arrange this baggage. She took a little time and get us a favor from a seniority and not only our baggage got accepted but we all four travellers got together seats which was not the same earlier. We thanked them all and got clicked with them then reached Bangkok.
First thing when I landed in the swarnabhoomi airport i saw  asuras and devas churn amudham with the help of snake from the sea, don't miss to see it, this connects lot about our Hindu culture.
The weather was hot and we have to go to Pattaya first which is some 50-60km from Bangkok. We reached to our Pattaya hotel – which is Four Seasons chain of hotel , and it was a beautiful one . The discomfort thing for me while staying in the property of any country, that they took a big amount of money as a security which is 100%  returnable on checkout , but my question is , what will we do with that money while we would be leaving their country after checkout.
As we have checked in the afternoon, after a long flight , so we took some rest , got refreshed, and in the late evening, we left for to enjoy the nightlife of Pattaya . While walking on the street, with a chilled weather in the evening , we have reached a location named Walking Street!
Yes , guys don't laugh , as even i was a first time traveller and was not much aware of the locations here . We people went inside, i have thanked god that i m not here with my family, also will suggest to travel Thailand with family but not at this location. If you would be from a middle class  with traditional values , you gonna prefer to die than doing mistake of roaming here along with family🤣.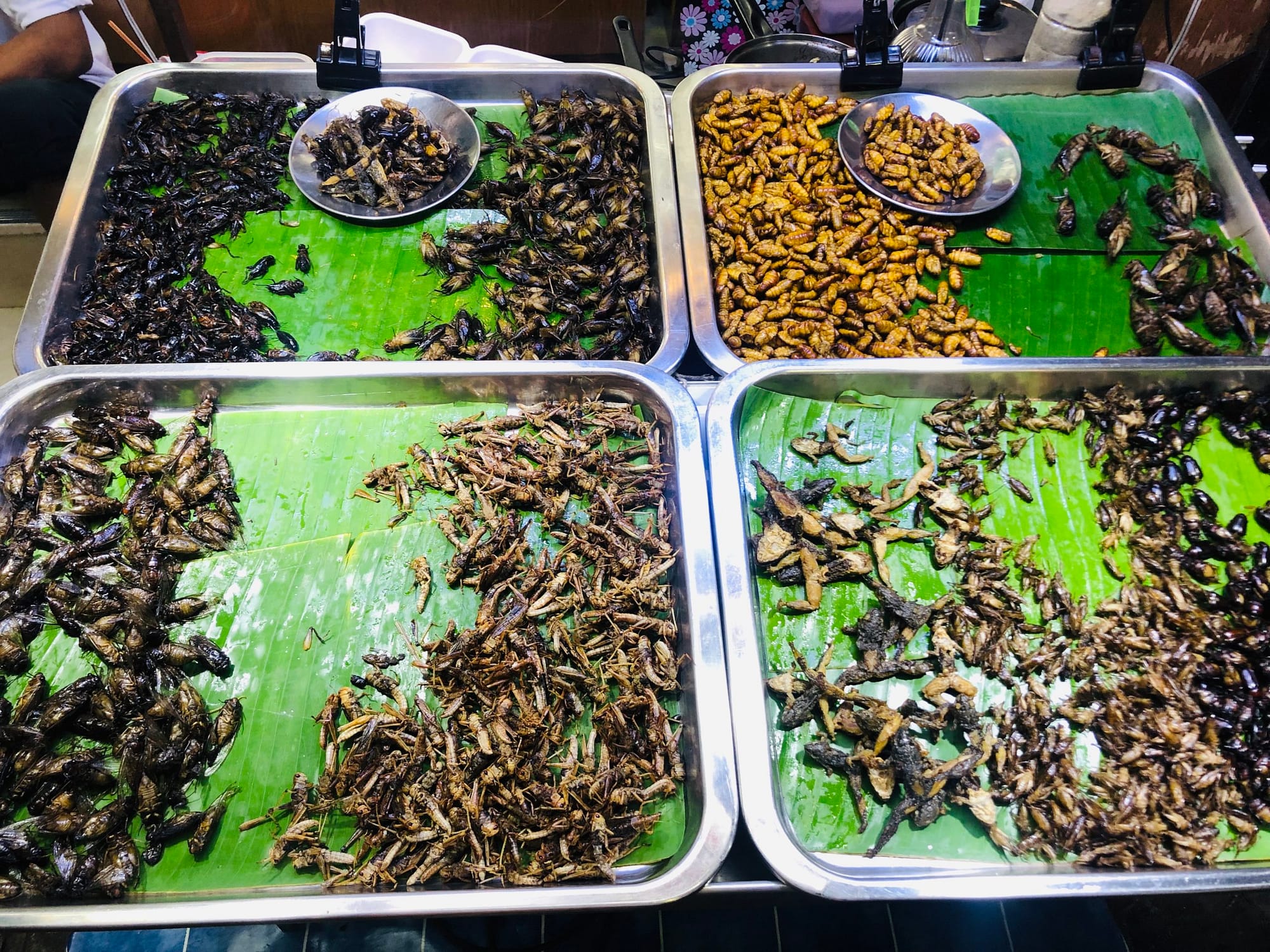 Chill, now i will share the best part of here which I haven't seen in my life , the creepy crawlies are getting cooked on a burner, people are having the crabs 🦀 with chutney. The crocodiles 🐊 are lying on the gas and getting cut into pieces to serve , the cockroaches , and the insects which you cannot named even , those were also there . Although i am a pure vegetarian, but such things are bit interesting to me as i wanted to know , how people gonna have crocs  🐊  in their tummy, is it something-  yummy yummy in my tummy ???? Pls god , save me from doing such things in life , i prayed . Still kept on exploring more , people were dancing with all their heart out , and those strangers from different nations were asking me too to dance , and i am a bit shy guy too, so slowly moved from there . We also tried magician ice cream , which is now available in india too, but for us that was something new , although it was just that magic , crowd was starring the magician , else the icecream he handed over in the last , wasn't tasty . We explored the entire Walking Street and then had dinner in a indian Punjabi restaurant, and back to hotel .
In the night we planned for some cocktails hours , although I wasn't feeling well since i started this trip, was having bit cold and cough so I choose to take a sleep , and rest were having vodka party  in another room from a shop named 7-Eleven, which is like a 24Seven shop in India.
We went for few sight seeing the next day. Will share in the last what all I visited in the entire trip .
Bangkok and Pattaya are one of the Asian cities . The city full of hustle and bustle but my experience has been really good. There are plenty of restaurants, street-food corners, cafe, pubs, shopping malls, and places of sightseeing.
First things we Prepared ourself for the heat. There is a lot of heat, but overall, it's very moist. Nights were also mild, The people were nice, language seems bit tough, cultural gap is huge, seems superficially developed, food were expensive, services were cheap and massages were fantastic !!
The only thing that bugged me, is the fact that most motorcycles always used to move through narrow spaces of the cars in traffic just to get ahead, it is so annoying because it could have dangerous to them and might have proved troublesome to us as well.
Bangkok is one of the top destinations for expats to work, and for tourists to come and relax.
Things which i felt , not to be expected –
An Indian , might face regular discrimination like people will not seat besides you in first places, they will never talk to you in first place, they might give you bad look.
Bargaining for everything, even for Taxi – There is only a sentence if you want to bargain, not anything else. so use that sentence if you want to bargain. For shopping etc, general rule of thumb is 30% less than the first asking price. Not always but it's a good rule to use.
One needs to be very conscious . Apply mind always for everything, Always use Grab App which is like an Uber app while traveling late at midnight as local Tuk Tuk might be unsafe.
Tuk tuk, you might be wondering, what is it ?
Its like a riksha there ,
Not everything is cheap in Thailand. If you would like to have a fairly high-quality lifestyle, which is comparable to those in the most developed countries, then it costs a lot of money. Usually, anything that is imported, such as luxury goods and food stuffs, is expensive due to taxation.
Never Take simcard from the Airport , because the price difference is very much high.
And this one , which i dint experienced personally but i have heard-  Be Aware of Lady boy. They might look Beautiful even more than Real Girls but you need to stay Alert. girl will sing, The bills are attached to a flower necklace, of course the more money you tip, the happier and faster the girl will be sitting by your side. About five minutes after singing her song , she will be greeting you at your table, feeding you sweets and fruits and pampering to buy drinks from that bar / restaurant. maximizing profit for the cafe or bar which they work for is part of their job.
Orangutan Show
This comedy-centric boxing show- The orangutans in fun outfits will kill your stress by teasing each other, dancing, hugging and balancing on the chair.
Sea Lion Show
The show opens your mind with the cleverness and flexibility of the sea lions attempting to cooperate with the trainers. They can lift the ball by the nose, jump through the ring or even tease their trainers.
Cowboy Stunt Show
If you are a fan of Lucky Luke, don't miss this Cowboy Stunt Show that brings you to an actual Westside of the States, where the cool cowboys and cowgirls conquer the wooden pubs while the gunfights roam the sky.
Elephant Show
These giant animals will have you saying wow with multiple impeccable human simulation actions, such as painting, playing basketball, balancing, dancing in groups and many more.
Dolphin Show
Dolphins are famous for their friendliness. The dolphin shows at Safari World Bangkok will give you the truest experiences of how clever these cute animals are. Get ready to be mesmerized by their dances and flips over in the air.